Jimelle Levon, an 18-year-old designer from Columbus, Ohio, made this Coming to America-inspired dress for his prom date Autumn. She cut each flower by hand and to ensure perfect placement, he sewed them onto the sheer body-con dress while Autumn was wearing it. You can pretty much say that the dress was made from love for a beautiful Black queen.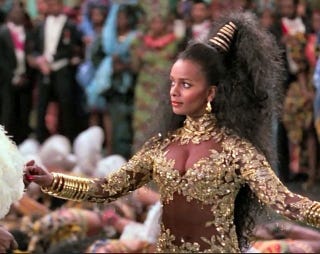 Jimelle wore a matching blazer with khakis, a t-shirt, and a baseball cap. The gorgeous African style dress was inspired by the 1988 movie Coming to America, which starred Eddie Murphy as the prince of a wealthy African country who travels to America to find true love. Vanessa Bell Calloway donned this incredible gold dress and matching headpiece in the movie. Autumn is undoubtedly the perfect beautiful black queen and the right woman to wear this dress.
Jimelle writes on his website, "I've been designing for four years now. I started off painting shoes and distressing jean shorts, then expanded from there. I have never taken any classes or been taught how to sew. I am a self-taught artist."
Jimelle has designed many other prom dresses for others and it's not hard to imagine his work appearing on a red carpet.