Are mysterious, unexplained plane crashes or car collisions in the Queen B's near future? How about drug overdoses or recently diagnosed mental disorders? Will she be put on trial, where her character is questioned and her reputation tarnished? Beyoncé's courageous super bowl performance, where she not so subtly let you know her stance on the Black Lives Matter bandwagon may have led her down the road most traveled by celebrity greats before her.
Take Jimi Hendrix for example, an extraordinary musician with almost no competition in his day. He, also references the Black Panther party in a few of his live performances where he dedicates songs to them. He was said to have died of an overdose only to have an autopsy prove he was drowned in wine. A death he predicted.


Another musical great taken out before his time is the late great Michael Jackson. Michael known for his phenomenal musical talent often spoke of individuals seeking to kill him. He was quoted on both video and audio stating what he believes were attempts made on his life. Most attempts were made after speaking out on unfair treatment and hidden agendas.

The upset, Beyoncé has caused when looked at, at its core is her idea that Black lives matter. Not that that they matter more. The message is not that Blacks are more valuable than any other race of people. The message is that Black lives should mean something in the eyes of law enforcement. To go up against the Black lives matter movement is to outwardly say the so called law has a right to gun down any person of color as they see fit.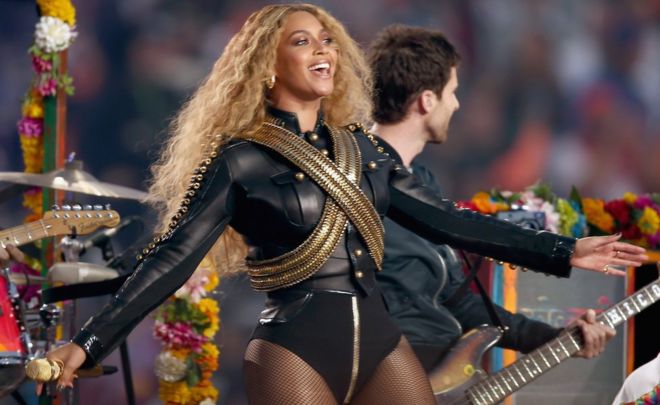 The outrage with Beyonce has very little to do with her actual performance but the amount of influence she has over the masses of today's young minds. For as long as the masses are in a state of stupor than the powers that be are content. The moment a person of influence, especially one of color comes along to stand behind any cause that doesn't reflect the powers that be they are shut down. Michael Jackson himself stated 'They attack your character first. If they can't get you there they seek to discredit you and if all else fails they seek to kill you.'
Beyoncé's power lies not in her ability to entertain but that through her talent and platform she can influence individuals both white and black to take a stand. That makes her a lethal threat in the eyes of the powers that be. And that threat has already been proven throughout history to come with lethal consequences.


A not so subtle hint of this is stated in a movie made for children titled "A Bug's Life" Where in the big, bad grasshopper told his small army of enforcers
"You let one ant stand up to us, then they all might stand up! Those puny little ants outnumber us a hundred to one and if they ever figure that out there goes our way of life! It's not about food, it's about keeping those ants in line.
Another of those quotes which are so boldly hidden in the lines of the same "Bugs Life" Movie goes
Hopper: Let this be a lesson to all you ants! Ideas are very dangerous things! You are mindless, soil-shoving losers, put on this Earth to serve us!"
Flik: You're wrong, Hopper. Ants are not meant to serve grasshoppers. I've seen these ants do great things, and year after year they somehow manage to pick food for themselves *and* you. So-so who is the weaker species? Ants don't serve grasshoppers! It's *you* who need *us*! We're a lot stronger than you say we are... And you know it, don't you?


Bey may have made a decision to stand up for a cause she so firmly believes in but at what cost?
Stay Tuned for more updates by author K.C. Blaze with Lady Vixen Blog and tune in to Lady Vixen Radio